Some thirty years ago the Foundation was formed as a cooperative effort to bring benefits to all through donated wealth. By listening to the heartbeats of our people, the Foundation has earned the community's trust, the trust which has garnered funds enabling the distribution of over $468,000 (as of Nov 1, 2014)of value called grants. This is VALUE to a community to which only a few towns have such an organization.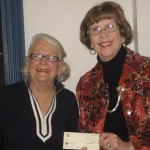 But quality has another dimension in this land of plenty. There are the problems which result in poor diets, inadequate nutrition, ignorance and indifferences to proper diets, and inabilities to find help. Some are its victims.
We are fortunate to have a person who has recognized this problem and exerted her feelings into leadership to minimize it. It is she who had directed the contributions of food to recipients. Hers has been a life devoted to the care of others. Her name is Mary Ann Apfel.
The annual community builder gift to the Foundation was made to honor Mary Ann, whose efforts have benefitted others and adds to the quality of a community and life referred to.
The gift created a Named Fund which Mary Ann has designated for the continued support of the Food Pantry programs. Thank you Mary Ann for your leadership and work in building a stronger and more valuable quality community.