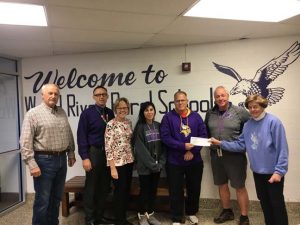 Kaye Doane, Terry Zessin, Peg Krause, Blanca Rodriguez, Jeff Ashby, Clarke Benne & Judy Wagoner
A grant request from Wood River Schools for The Youth Sports Foundation was recently approved and funded by the Wood River Community Centennial Foundation.
The purpose of this organization is to promote multisport athletic participation among the youth of Wood River, This organization believes that youth sports should be inclusive, developmental, fun, teach fundamentals, and team skills. The youth programs will be deemed successful by encouraging as many youth as possible to participate in junior high sports and high school sports. Wins and losses are not the measure of success, numbers of participants for Junior High and High School Sports is the measure of success.
The goal is to expose as many youth as possible to the sport, and not to develop "elite" or "all-star" teams or individuals. All sports have a set of building blocks or steps that lead to successful high school players and teams. It is suggested that a developmental building block model, used to teach a desired skill set, is distributed to and taught to the youth coached by the High School Head Coach of each sport. "When possible HS athletes will help teach and coach elementary youths which will assist in the development of Wood River culture and be a good experience for the youth and the high school athletes.