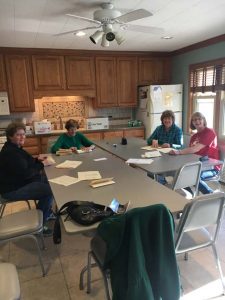 Volunteers have played an important role in the formation and growth of the Wood River Community Centennial Foundation. At the annual meeting special recognition was given to three of the current board members, who have completed their second four year term. Marilyn (Pinky) Dubbs, Dewey Heminger and Jenny Reeder combined have contributed over 90 hours to the Foundation, which according to values for Nebraska volunteers at $22.00 reflects an unrecognized donation of time and talent of over $2,000.00 to the Foundation. This time was made up of attending 4 quarterly meetings a year and special events such as Funfest and Go Big Give.
The Volunteer hours continue to grow. Several Board members met recently to prepare the Annual letter for distribution. Volunteers are an indispensable anchor of every community's infrastructure. The Volunteers of the Foundation are important as it continues on it's journey.
You are encouraged to consider volunteering in the new year. Many opportunities and one may fit your "passion".