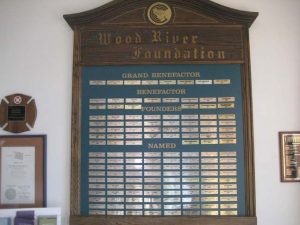 Picture: Tanner & Matt Gideon, Dennis and Dan Wagoner
The Wood River Centennial Foundation Plaque (at Heritage Bank in Wood River) was recently updated by Dennis Wagoner to allow more donor names to be added. The plaque that was created by Lew Welch in 2007 had used all of the Named Fund slots. Dennis reconfigured the plaque to allow for additional fund names to be added in the future. A Named Fund is established by a gift of $500.00 or more, at one time or cumulative contributions. The Donor/Representative has the right to designate the use of these funds for future grants.
A full description of the various funds can be found on our webpage at wrcommunityfoundation.com or a brochure at the bank. Stop in at the bank to see the generous supporters of the Wood River Community Foundation who in part have allowed the funding of grants back to the Wood River Community totaling over $734,000.00 since the inception of the foundation in 1984.
The first Wood River Centennial Foundation Plaque was recently completed with the addition of the Donald & Barbara Taylor Founder's name plate. This plaque was designed and built by Lew Welch in 1986. One Hundred and Forty (140) named plates were added at various times to recognize the establishment of various funds. Dennis Wagoner has helped with the placing of the plates.
The Founders Fund is established by a gift of $750.00 or more (one gift or cumulative). These funds are invested in an endowment account, only the income is expendable. Thirty-eight (38) Founder's Funds have been established with a principal of $58,700.00 in this fund at the end of 2020. The income from this has supported the various grants made of over $734,800.00 back to the Wood River community since the inception of the Foundation.