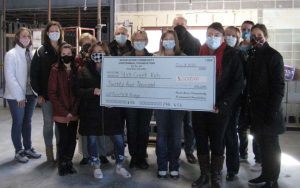 A distribution was made on December 31 from the Wood River Community Centennial Foundation to the Stick Creek Kids Child Development Center of $25,000.00 to fulfill the pledge made earlier for the office. The source of the money for this pledge was from the following established funds with the Foundation: Thomas & Cecelia Wagoner Grand Benefactor, The WRCC Foundation Board Community Builder Benefactor, Heritage Bank Employee's Fund, Donald Miller Community Builder Fund, Ladies Bridge Fund, Joe Allan Fund, Joyce Schultz Fund, Paul, & Thelma Johnson Benefactor Fund, Rae Ann Saunders Benefactor Fund, Knight Family Fund, Virginia Luebs Community Builder Fund, Judy Wagoner Community Builder Fund, Ben & Gladys Camp Fund, Debra Harders Fund and the Founders Fund earnings.
This distribution was made possible by the prior support of families who have established funds with the Wood River Community Centennial Foundation to honor family and the Community Builder Awards. Prior articles have described the various levels of funds. A full description of the Foundation can be found on the website wrcommunityfoundation.com or brochures are available at the Lobby of Heritage Bank Wood River.
The Board members for 2021 include Peg Krause (President), Heather Zessin (Vice-President), Lori Dibbern, Kaye Doane, Angie Gill, Mary Harders, Abby Rennau, Jason Rotter, Dave Harders, Blanca Rodriguez, and Jenny Reeder. Judy Wagoner is the Executive Secretary, If you have questions please feel free to contact a Board Member, or contact us at [email protected] or P.O. Box 493, Wood River.
The Wood River Community Centennial Foundation Board is very grateful to all the donors who have supported the Foundation since its inception in 1984 and look forward to being a part of the proud and promising future of Wood River