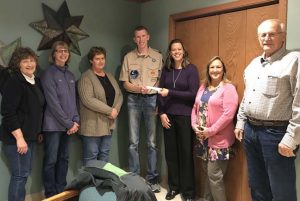 At the recent quarterly meeting the Wood River Community Centennial Foundation Board approved a grant request for partial funding of a NE Historical Marker. Alec Paul, from Grand Island, has been working on his Boy Scout Eagle Scout Award. His project is to erect a marker along Old Potash Highway to mark the site of the explosion at the Cornhusker Army Ammunition Plant in 1945. The funding for this grant was from the Benefactor's fund. The plaque has been ordered with a tentative time for installation spring 2019.
Mark your calendar and plan to attend the Saturday Friendship Gatherings at the Wood River Rural high School Theater, on February 23, 2019 at 9:30. Howard Uhrich will present the program about the May 26, 1945 explosion on Line 4 at the Cornhusker Army Ammunition Plant that took the lives of nine employees. This program is part of the Celebrate Wood River that is made possible by The Wood River CC Foundation, Donna Lee Moyer performing Arts Gift and the Nebraska Arts Council.
Picture: Mary Harders, Peggy Swanson, Mona Luebs, Alec Paul, Heather Zessin, Lori Dibbern and Kaye Doane.