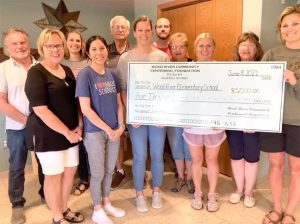 Picture: Dave Harders, Peg Krause, Jenny Reeder, Blanca Rodriguez, Kaye Doane, Heather Zessin, Jason Rotter, Pam Kjar, Adrienne Gill, Mary Harders, Abby Rennau
At the recent quarterly meeting of the Wood River Community Centennial Foundation a check for $5,000 was presented to the Wood River Elementary School for The Go Big Give Playground Update Grant. At the February meeting a matching grant of $1.00 for every $2.00 raised up to $10,000.00. The total amount raised will be announced this week but Go Big Give was very successful for this Elementary School project.
Funds for this grant were from the Benefactor Fund, The Education Fund, Knight Family Fund (Dorothy, Turk & Patty) and the Wayne Rennau Fund.  This is another example of the benefit of establishing funds with the WRCCF, that when a grant is submitted for the Wood River area, funds are available. Working together we can accomplish so much. Thank you.