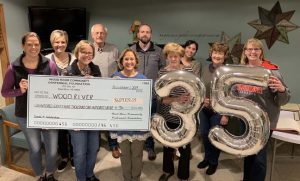 The annual meeting of the Wood River Community Centennial Foundation recognized the creation of the Foundation 35 years ago. The Articles of Incorporation for a non-profit were signed by 48 supporters on August 13, 1984. The papers were filed and the tax-exempt status was acquired so that all gifts qualify under IRC 501(c) for tax deductions.
The initial balance was the remaining funds ($6,500.00) from the town's 1982 centennial celebration. With many generous donors the funds grew. A review of the 2019 annual report shows that $689,109.09 has been awarded back to Wood River in the form of approved grants and high school senior scholarships. With the balance on hand at the end of September 2019 of $510,100.00 this reflects over One Million Dollars that has stayed in the Wood River area for grants awarded and future requests. A second fact to consider is that the Foundation is being active in awarding approved funds to encourage the growth and development of the town.
The Foundation has "partnered" with organizations to raise money for a specific goal. Worked with Wood River Rural High when the new fitness center was built to raise funds for the flooring and equipment and has continued support in acquiring additional equipment and for the maintenance. Working with the Go Big Give Annual giving the Wood River Fire and Rescue Department raised funds for the new ambulance, Wood River Elementary School funds for playground equipment and this past year worked with Stick Creek Kids to raise funds for the new child development center.
Several funds have been created to serve the various desires of donors. An explanation of the funds can be found on the website at wrcommunityfoundation.com or by contacting a board member. The Board members are Peg Krause, Lori Dibbern, Kaye Doane, Angie Gill, Mary Harders, Heather Zessin, Dean Kjar, Abbie Rennau, Jason Rotter, Dave Harders and Blanca Rodriguez. Judy Wagoner serves as the Executive Secretary.
It's been an amazing 35 years and the Foundation is blessed to have so many loyal, generous supporters. The Mission of the Wood River Community Centennial Foundation is to encourage, receive and administer contributions and gifts for the benefit of the Wood River area and the Board looks forward to continue to follow this mission in the coming 35 years.