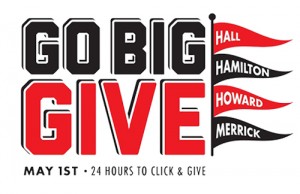 The GoBigGive was a successful day for the Wood River Community Centennial Foundation. Coffee and Donuts were enjoyed that morning at the WR Senior Citizens Center, Good Samaritan, Am Legion Club, WR Elementary School and WR Rural High. A prior gift to the Foundation paid for the advertising, donuts & coffee, prizes and the matching fund of $250.00. The matching fund amount was reached early on Friday morning. Part of the funds raised will go to designated established funds with the Foundation.
Gifts were received from thirty eight individuals. Twelve of these donors were first time supporters of the Foundation. The gift made by Peggy Swanson during the 7:00 a.m. hour was the winner of the Tailgate incentive award of $500.00 sponsored by Sams Club.
Winners of the Wood River bucks included Matt Woitalewics (Lincoln), Chris Zavala and Mary Frances Wagoner.
The mission of WRCCF is to encourage, receive and administer contributions and fits for the benefit of the Wood river area. Over the past 30 years WRCCF has awarded back to the community and surrounding area over $480,000.00. The vision of the incorporators of the Foundation was to encourage charitable gifts to enhance the quality of life in the Wood River area. Instead of having multiple fund drives when a need is identified, funds are collected and administered so that funds are available when a project is identified. A review of the past activities shows that the approved grants have affected everyone in the community.
We are thankful for our loyal supporters. If anyone is interested in the activities of the Foundation the Annual Report and explanation is available in the Lobby of the WR Heritage Bank or on line.  Please help us spread the word about the Foundation and it's contribution to the Wood River area.