When:
February 11, 2018 @ 2:30 pm
2018-02-11T14:30:00-06:00
2018-02-11T14:45:00-06:00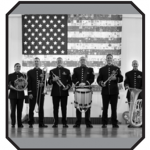 Offutt Brass, the brass ensemble of the United States Air Force Heartland of America Band, is stationed at Offutt Air Force Base, Nebraska. Comprised of two trumpets, French horn, trombone,tuba, and percussion, Offutt Brass showcases the Air Force's excellence and precision in every performance with a diverse repertoire featuring classical selections, patriotic favorites, jazz and popular music, new compositions and distinctive arrangements. We just bet you can't get through this concert without tapping your foot or clapping along to a patriotic Souza march!