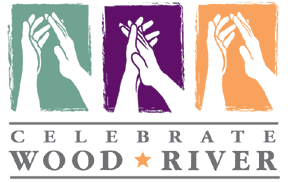 Welcome to WOOD RIVER'S
 PERFORMING ARTS & ENTERTAINMENT SERIES
Made Possible by
The Donna Lee Moyer Performing Arts Gift

2021-2022 Celebrate wood River Events
WOOD RIVER RURAL HIGH SCHOOL THEATER
13800 W Wood River Road, Wood River, NE
All Performances are free and open to public
Free Admission
to all performances thanks to the generous support of our sponsors
Cost: All performances are offered FREE to the public. A freewill offering is accepted at the event to make future programs possible.
Contact: Questions or wondering if an event will occur due to inclement weather? Contact Georgene Smidt at 308-583-2606. Better yet, get added to our email list to receive updates about upcoming events and emergency announcements by emailing [email protected] .
Pippa White:
The Story of the Orphan Train
Sunday, 9/19/21, 2:30 p.m.
Celebrate Wood River welcomes back our dear friend and amazing storyteller, Pippa White, to central Nebraska to premier her new film. Footage was shot in 2019 both at Stuhr Museum and the National Orphan Train Museum in Concordia, Kansas. Each character you enjoy in her one-woman stage performances comes to fuller life with real-life settings and professional cinematography.
Pippa was honored with a Special Achievement Award by the NOTM in June when she premiered the film there. Bring a friend to hear this moving story!
TIMBERLINE: A 50th Reunion
Sunday, 10/3/21,  2:30 p.m.
**Tickets required! $23, $13 for 12 & under, in advance at jimsalestrom.com or at the door if the concert hasn't already sold out**
Perennial favorite Jim Salestrom is bringing "the band together again" for a 50th Reunion Tour! "TIMBERLINE began as a dream, but here we are….50 years later…a reunion of friends remembering 'the roads less traveled', many proms, Holiday Inns, shows, concerts & an EPIC CBS Recording contract."
It's a different time, but wow, if ever there was a time, it is now….to revisit songs & memories from the Timberline album and familiar songs we know you will remember from the 70's.
Please join us for a special time in all our lives…a time to smile and remember…the music of TIMBERLINE. During this tour, Jim will be inducted into the Nebraska Performing Arts Hall of Fame! Come help us congratulate this Nebraskan on his accomplished career.
Kevin & Heidi Cheng
Sunday, 2/27/22, 2:30 p.m.
If you haven't experienced this amazing Piano/Violin Duo yet, now is your chance! Kevin on piano and Heidi on violin perform a variety of styles of music with great energy and skill. They have performed all across Nebraska, and we are excited to welcome them to the Wood River High School performing arts theater.
Yesterday & Today: The Interactive Beatles Experience
Sunday, 4/3/22, 2:30 p.m.
This amazing band, anchored by brothers Billy, Matthew and Ryan McGuigan perform as themselves and leave the song choices completely in the hands of the audience.
This is done through request cards that audience members fill out prior to the show. On the cards audience members only need to fill out three things: their name, their favorite Beatles song and the reason why they chose that song.
Saturday Friendship Gatherings – 9:30
An informal gathering for friends old & new, young & old to explore and reminisce.
We'll gather at Wood River Rural High School in the theater lobby.

FRIENDSHIP GATHERINGS – 9:30 a.m.

Tales from Hans Christian Andersen
October 9, 2021

The delightful stories of Hans Christian Andersen are brought to life in the imaginations of audience members as Lisa Kramme shares tales by this great Danish author. Listeners also learn about the life of Andersen, including his early struggles and later successes.

Veteran's Day Presentation
November 6, 2021

Join Chef Anthony Brando as he offers a tribute to Veterans, a Navy veteran himself.

The Abbott Sisters
January 22, 2022

Hear local historian, Michelle Setlik, speak about the contributions of the Abbott women and their significance to Hall County, NE.

Demystifying Meteorology
April 2, 2022

Come hear Mike Moritz from the National Weather Service's Hastings office explain Nebraska's weather phenomena and the meteorology behind the forecasting process.

LOCAL ARTS

Christmas Cantata
Sunday, Dec. 12, 2021, 2:30 pm
Appreciate the sounds of Christmas as this central Nebraska choir presents their annual cantata event. The Christmas Cantata will be held in the Wood River High School Performing Arts Center..

Easter Cantata
TBA: follow Facebook, newspapers and our email list for details when available
Get swept away in the majesty of Easter during this central Nebraska choir's cantata presentation. The Easter Cantata will be held at St. Mary's Catholic Church in Wood River (1108 Dodd Street).

All School Play
TBD
The 2022 production from Wood River High School's Music & Drama Department is guaranteed to entertain you. The coming year's performance is TBA at the time of this printing so watch for updates at https://www.woodrivereagles.org !

       The Celebrate Wood River Committee was formed in January 2006 and is made up of roughly twenty individuals from the community. We represent all ages and all walks of life. Our mission has been to make the dream of providing entertainment and enrichment activities to the Wood River area come to life. This season will bring all new performers to Wood River for your enjoyment! The "Weekend Friendship Gathering" series will also provide an opportunity to explore and reminisce with friends. We thank you for your support of both series in our current season…here's to many more!
All events are open to the public and are provided at no charge (other than all school play admission) thanks to the generous support of our three benefactors. A free will offering will be accepted to continue the entertainment series through the years ahead. We sincerely hope you'll enjoy yourself and bring a friend or two.
 No tickets are needed for these performances; seating is first-come, first-served. With a 450 seat theater, there is generally plenty of room. Please help spread the word to friends and family — these entertainers love full theaters!
"And in the end it's not the years in your life that count. It's the life in your years."
  – Abraham Lincoln
Celebrate Wood River logo courtesy of SCORR Marketing, Kearney NE. 
The Nebraska Arts Council, a state agency, supports this program through a matching grant funded by the Nebraska Legislature, the National Endowment for the Arts and the Nebraska Cultural Endowment. Visit www.nebraskaartscouncil.org  for information on how the Nebraska Arts Council can assist your organization, or how you can support the Nebraska Cultural Endowment.