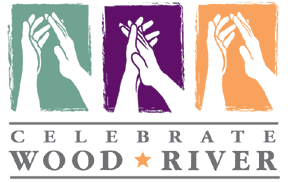 Welcome to WOOD RIVER'S
 PERFORMING ARTS & ENTERTAINMENT SERIES
Made Possible by
The Donna Lee Moyer Performing Arts Gift

2019-2020 Celebrate wood River Events
WOOD RIVER RURAL HIGH SCHOOL THEATER
13800 W Wood River Road, Wood River, NE
All Performances are free and open to public
Free Admission
to all performances thanks to the generous support of our sponsors
Cost: All performances are offered FREE to the public. A freewill offering is accepted at the event to make future programs possible.
Contact: Questions or wondering if an event will occur due to inclement weather? Contact Georgene Smidt at 308-583-2606. Better yet, get added to our email list to receive updates about upcoming events and emergency announcements by emailing [email protected] .
The String Beans
Thursday, 9/26/19 7:00 p.m
Kiddos LOVE "The Beans" so come out and give them a BIG WELCOME BACK to Wood River! The String Beans make music that makes kids move! Clever lyrics, catchy tunes and crazy antics are the hallmarks of their live show. Mixing country, rock n' roll, pop, polka, and even rap, the 'Beans' perform original, family-friendly songs about the things kids love, and the things parents can't stop laughing about. Wood River Elementary School students will be treated to a quick concert at 2:00 p.m. – come to the evening performance and register for a chance to win a free String Beans CD!
Jim Salestrom
Sunday, 11/24/19 2:30 p.m.
Jim is an Emmy Award-winning songwriter, a gifted guitarist and a seasoned performer who has been writing and recording music since he was 13. He has recorded and performed with such stellar artists as John Denver, Kenny Rogers, and Dolly Parton, has appeared on national TV and awards shows, has performed for four U.S. Presidents and in 31 foreign countries. Salestrom is back by popular demand, accompanied by his son James. Together they will present a traditional show of beloved favorites & Jim's own pieces. Let's have a PACKED HOUSE to elcome Jim "home" to Nebraska again!
Tara Vaughn "She Rocks"
Sunday, 4/19/20 2:30 p.m.
Woven together with songs and stories, SHE ROCKS celebrates women artists and songwriters of the 1960's – 1980's. Backed by an incomparable 4-piece band, Tara Vaughan performs music from artists like Janis Joplin, Linda Ronstadt, Aretha Franklin, Blondie, Heart and many more. In this unique revue, Tara masterfully presents an evening of classic rock and roll with the focus on female artists and songwriters.
Saturday Friendship Gatherings – 9:30
An informal gathering for friends old & new, young & old to explore and reminisce.
We'll gather at Wood River Rural High School in the theater lobby.

FRIENDSHIP GATHERINGS – 9:30 a.m.

Willa Cather and Quilts
September 21, 2019

Willa Cather's earliest memory of art was sitting under quilting frames as a child. This early experience of art as craft — listening to stories and looking at thoughtfully arranged materials of everyday life — remained with Cather. Throughout her life Cather chose to work in places that recalled the small space under the quilting frame, including the attic room in her Red Cloud home, the attic sewing room Isabelle McClung prepared for her in Pittsburgh and the tent where she wrote in Grand Manaan. Slides illustrate quilts Cather names

Tales from Hans Christian Anderson
March 14, 2020

The delightful stories of Hans Christian Andersen are brought to life in the imaginations of audience members as Lisa Kramme shares tales by this great Danish author. Listeners also learn about the life

Demystifying Meteorology
April 4, 2020

Come hear Mike Moritz from the National Weather Service's Hastings office explain Nebraska's weather phenomena and the meteorology behind the forecasting process.

LOCAL ARTS

Christmas Cantata
Sunday, Dec. 8, 2019, 2:30 pm
Appreciate the sounds of Christmas as this central Nebraska choir presents their annual cantata event. The Christmas Cantata will be held in the Wood River High School Performing Arts Center..

Easter Cantata
Sunday, April 5, 2020, 2:30 pm
Get swept away in the majesty of Easter during this central Nebraska choir's cantata presentation. The Easter Cantata will be held at St. Mary's Catholic Church in Wood River (1108 Dodd Street).

All School Play
TBD
Can Wood River High School's Music & Drama Department top last year's performance of Beauty & The Beast? The coming year's performance is TBA at the time of this printing so watch for updates at https://www.woodrivereagles.org !

       The Celebrate Wood River Committee was formed in January 2006 and is made up of roughly twenty individuals from the community. We represent all ages and all walks of life. Our mission has been to make the dream of providing entertainment and enrichment activities to the Wood River area come to life. This season will bring all new performers to Wood River for your enjoyment! The "Weekend Friendship Gathering" series will also provide an opportunity to explore and reminisce with friends. We thank you for your support of both series in our current season…here's to many more!
All events are open to the public and are provided at no charge (other than all school play admission) thanks to the generous support of our three benefactors. A free will offering will be accepted to continue the entertainment series through the years ahead. We sincerely hope you'll enjoy yourself and bring a friend or two.
 No tickets are needed for these performances; seating is first-come, first-served. With a 450 seat theater, there is generally plenty of room. Please help spread the word to friends and family — these entertainers love full theaters!
Suggestions for future events and volunteers are warmly welcomed by contacting any committee member or Georgene Smidt 583-2606, Vince Boudreau 583-2961. Dare to dream a little with us, and let's see what happens in the years to come!
"And in the end it's not the years in your life that count. It's the life in your years."
  – Abraham Lincoln
Celebrate Wood River logo courtesy of SCORR Marketing, Kearney NE. 
The Nebraska Arts Council, a state agency, supports this program through a matching grant funded by the Nebraska Legislature, the National Endowment for the Arts and the Nebraska Cultural Endowment. Visit www.nebraskaartscouncil.org  for information on how the Nebraska Arts Council can assist your organization, or how you can support the Nebraska Cultural Endowment.