When:
April 28, 2019 @ 2:30 pm
2019-04-28T14:30:00-05:00
2019-04-28T14:45:00-05:00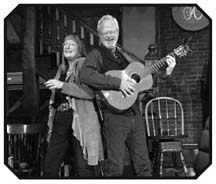 Gordy and Dalyce combine their unique brand of Americana, music, comedy and virtuosic guitar performances to leave you laughing and feeling good. Called the "Victor Borge of the Guitar," Gordy will mesmerize with world-class guitar playing and stand-up musical comedy. His fingers fl y as he plays Bach and Bluegrass in the same breath — think Mozart on "12 cups of good, strong cowboy coffee". Dalyce has been performing since kindergarten for anyone who would listen, then singing in rock and roll bands. The two combined forces in 2017 giving birth to a brand new family-friendly, character-driven comedy and music show for all ages. Come enjoy yourself!
*****************************************
Brought to you by Celebrate Wood River
Visit our website for more scheduled FREE events!! Wood River Centennial Community Foundation
2017-2018 Celebrate Wood River Events
WOOD RIVER RURAL HIGH SCHOOL PERFORMING ARTS CENTER
13800 W Wood River Road, Wood River, NE
All Performances are free and open to public
Cost: All performances are offered FREE to the public. A freewill offering is accepted at the event to make future programs possible.
Contact: Questions or wondering if an event will occur due to inclement weather? Contact Georgene Smidt at 308-583-2606. Better yet, get added to our email list to receive updates about upcoming events and emergency announcements by emailing [email protected]  .